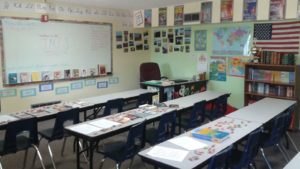 I teach a course called Literature and Composition to seventh and eighth grade students. Over the years I have developed certain reading and writing curriculum that can easily be adapted to a variety of age and skill levels. Below are listed several assignments I have used in my classroom and wanted to share with others. Please feel free to use any materials provided below in your own classroom!
---
I designed this packet my first year in the classroom–I wanted an assignment that could  potentially be used in conjunction with any of the novels we might read. I use this packet to supplement in-class discussion of the novel and to reinforce vocabulary used during course lectures.
---
First Five Paragraph Essay: Hero Essay 
At the start of seventh grade, I introduce students to the five paragraph essay format. Many students have written these before; however, for others, the concept is brand new. I teach the lesson in several stages. 
Before teaching the form of the five paragraph essay, I introduce students to their topic. I ask students to define a hero. Next we name examples of heroic people. Then students  are asked to choose a person they view as "a hero" in their lives–I stress that I simply want them to choose a person they see as a role model or a person whose character they admire. Students generally write better papers if they choose someone they know personally (a family member, a friend/mentor, a former teacher, etc…) Next students are given time to fill out the pre-writing sheet.
Hero Essay: Structure of a Five Paragraph Essay
The next day, I outline the basic structure of a five paragraph essay with students including sample thesis statements  and providing examples of paragraphs. Students are then given time to write the essay in class and the opportunity to ask questions as they work. 
I usually give students four or five days to finish the five paragraph essay. Many will finish the rough drafts in class, but extra time is helpful for those who need it. When the rough draft is due, students are given time to peer edit, using the provided checklist. 
Hero Essay: Final Draft Checklist and Grade Scale
Before the final draft of the essay is due, I provide students with a checklist to use as they rewrite their papers. I use a version of this same checklist to grade the final draft. On this particular assignment, I focus the grade on the form and structure of the essay over the content and conventions.