About Family Game Night and Other Catastrophes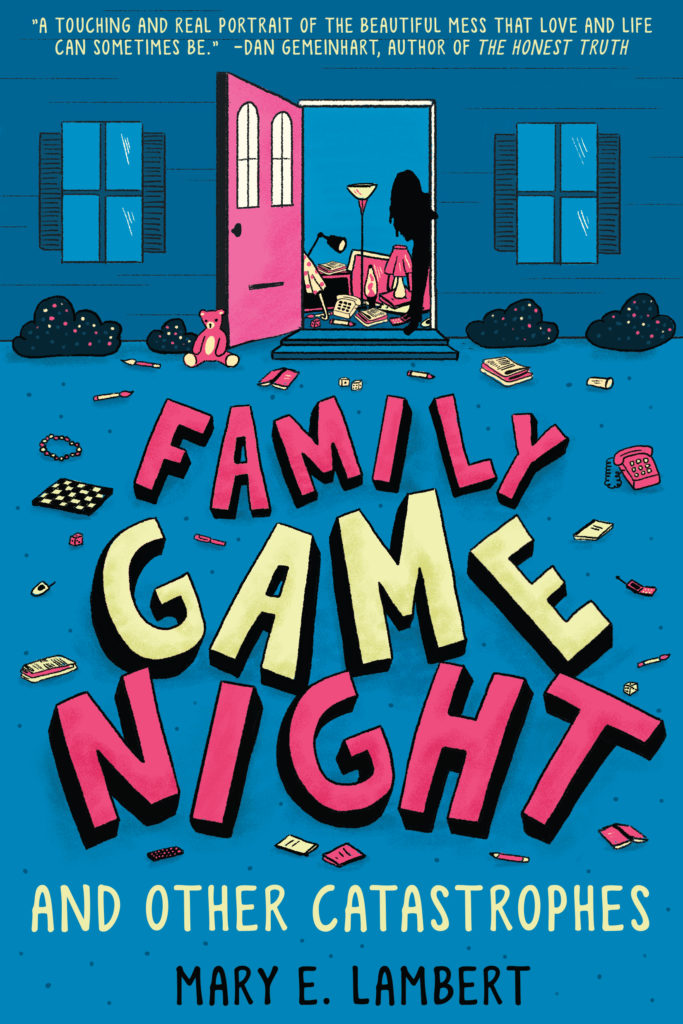 Annabelle Balog's life is a mess.
Literally. Her mom refuses to throw anything away.
But after a tower of newspapers collapses on her sister, Annabelle realizes that something has to change. Can Annabelle help save her family—or are further catastrophes inevitable?
Family Game Night and Other Catastrophes is a contemporary middle grade novel published by Scholastic (available February 2017). It tells the story of Annabelle and her family as they cope with difficult circumstances, exploring themes of forgiveness, trust, friendship, and changing family dynamics.     
Find it on…
---
F.A.Q. about Family Game Night and Other Catastrophes for the Author

Q. Is your mom a hoarder?
A. No. If anything, my mom and I are the opposite of Annabelle and her mom. When I was growing up, my mom was always the one cleaning out the house and throwing away things, while I am much more sentimental. I've always had a hard time getting rid of things–and though I'm not nearly as extreme as Annabelle's mom, in some ways, I actually find her more relatable than Annabelle.
Q. So if your mom's not a hoarder, why did you write this book?
A. When I was in graduate school, one of my advisors encouraged me to write a book about sisters. I have a very close relationship with my own sister, and my advisor thought I could translate some of this into a novel. I loved the idea! I always told my sister that my first book would be dedicated to her, and so I was thrilled that my first published book just happened to be largely about the friendship between two sisters.
Q. Where did you get the idea for this story?
A. While I knew I wanted to write a book about the strong relationship between two sisters, I also wanted to write a very bizarre piece of speculative fiction inspired by hoarding. After I pitched the idea for a piece of speculative fiction to another graduate school advisor, she just looked at me and asked, "Why not write about someone who is a hoarder?" This suggestion combined with my desire to write a family story about two sisters became Family Game Night and Other Catastrophes. 
Q. How did you come up with the title?
A. I had a really hard time choosing a title for this book. Initially my sister and I came up with the name Out the Window, but I wasn't overly attached to that title…as I knew that it would likely be changed if the manuscript sold to a publisher. My amazing editor helped me finally settle on a new, more exciting title. She and I emailed many suggested names back and forth before choosing Family Game Night and Other Catastrophes–a title I love because it hints at both the humor and the more serious subject matter explored in the novel.
Q. Are you going to make your students read your novel?
A. No. While I certainly hope that many of my students will read (and enjoy!) this book, I think it would be a conflict of interest to make it required reading for my class. I know some college professors do this, but that's a little different. University faculty are often PhD's with extensive, specialized knowledge in their content area, so it makes sense that their books would be required reading. My situation as a middle school teacher and creative writer is a bit different!
Q. Who is Ned?
A. This book is dedicated not only to my sister, but also to her beloved border terrier who died as this book was being prepared for publication. There has never been a dog quite like Ned, and I suspect that there never again will be. Here is a picture of Ned: