About the Bookshelf…
I've taught middle school English since 2006. Each May, to encourage summer reading, I make every seventh grader in my class an individualized list of books based on what I know of his or her personality and reading preferences. Over the years, I've amassed a fairly extensive list of reading suggestions based on which books my students seem to like.
Of course reading tastes do vary widely. One person will love a book; another person will hate it. This is natural. Reading is not a one-size-fits-all endeavor. Nonetheless I do genuinely believe that there is a book out there for every person. It's just a matter of a little matchmaking…
To help others who are just as passionate about finding the right book for the right reader (whether you're looking for yourself, a friend, a student, or one of your children) I thought it would be fun to start sharing the reading lists I've compiled for my own students.
Click here to view my book recommendations.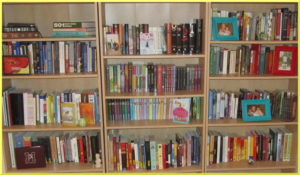 ---
Each recommendation on my book list includes…
Novel title:
Author:
*Target Audience:
Genre:
Publication Year:
A Favorite Quote:
My One Sentence Summary:
What I loved about this book:
Major themes:
**Who should read this book:
---
*Taken directly from the publisher (or Publisher's Weekly) recommendation.
**This is, of course, based completely my personal opinions.